Table Manners (Jan 3 – May 13)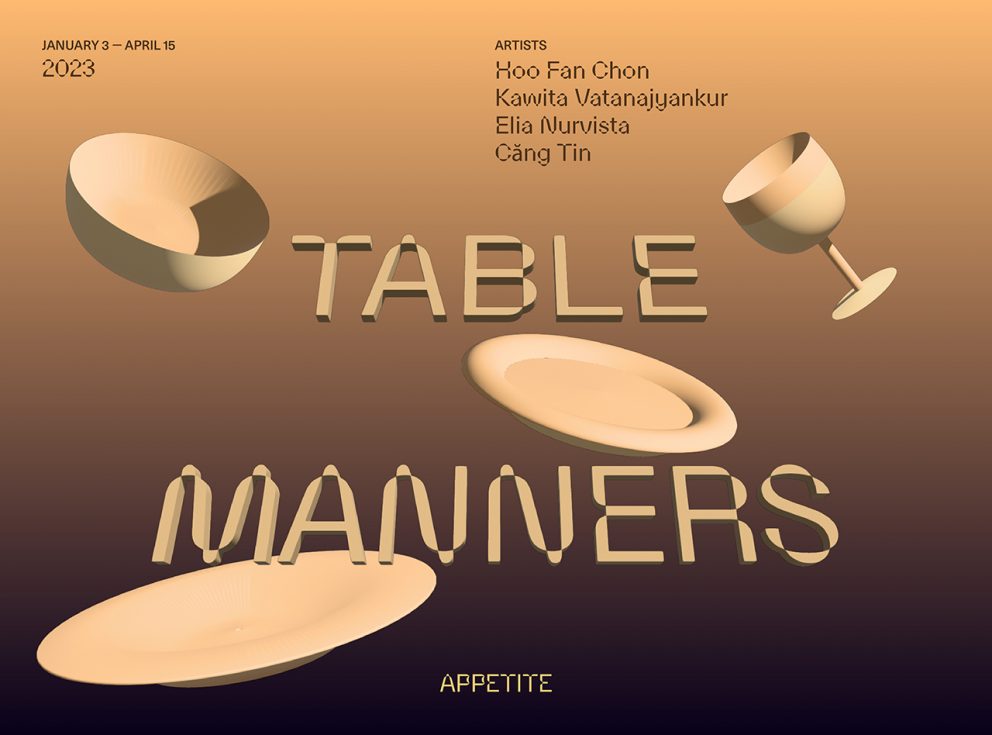 Email info@appetitesg.com to book an exhibition tour.

Appetite is pleased to present Table Manners, featuring artists Hoo Fan Chon, Elia Nurvista, Kawita Vatanajyankur, and collective Căng Tin.
Returning to the core of the work we do at Appetite, Table Manners brings together practices which take food as a lens to investigate wider interconnected systems, like globalisation, migration, environments, and more. Artists have long turned to the subject matter of food to highlight complex social and cultural issues.
From exploring the role of fish in Chinese banquet dining culture and unpacking the cultural inauthenticity of recipes, to the labour and machinery behind mass farming and the impact of colonisation on the agriculture of Vietnamese highlands, Table Manners focuses in on the Southeast Asian region to observe the manner – or the means, modes and systems – by which food culture is carried out, enacted and practised.
Table Manners is open to the public from 3 Jan – 15 Apr, 2023 [Extended til 13 May, 2023].
Hoo Fan Chon
The practice of visual artist Hoo Fan Chon (Malaysia, b. 1982) explores food consumption as a constant negotiation between nature and culture. His incisive and humorous works investigate value systems surrounding taste as social and cultural constructs. Growing up in Pulau Ketam, a fishing village off the coast of Klang, Hoo has an affinity with fish, which has become a recurring motif in his artwork. He recently presented a solo exhibition "The World is Your Restaurant" at the Back Room Gallery, Kuala Lumpur, Malaysia (2021). He was selected for the 3rd edition of the Makassar Biennale, and participated in the SEA-AiR Studio Residencies organised by NTU CCA Singapore and the European Union in Helsinki, Finland (2022) as well as Nusantara Archive's No Man's Land Residency, Taiwan (2017-2018). He was the co-founder of art collective Run Amok Gallery (2012-2017).
Modelled after the plating aesthetic and the dish-naming convention practised by Chinese seafood restaurants, Eight Immortals Crossing the Sea All Fish Banquet (2021) comprises of a 3D animated music video created by Hoo and his collaborator, Darrel Chia, and presented in "Table Manners" as a set of 8 prints. Featuring 8 premium marine and freshwater fish, Eight Immortals is a whimsical take on the visual lexicon of the banquet, and a gesture towards the historical development of the local Sino-foodscape alongside the economic rise of Kuala Lumpur.
In Chinese culture, fish often symbolises abundance and plays a focal role in Chinese-style banquets. The banquet, in Hoo Fan Chon's work, stands in for a microcosm of the world, where intricate social interactions unfold over the course of a meal, and through which, some assert their social status and others perform their class aspirations.
Commercial Marine Fishes (Pelagic) of Malaysia (2021) is based on an illustrated poster of commercial pelagic fish of Malaysia, produced by the Department of Fisheries Malaysia as part of their fish species identification guide for fish harvesters and seafood businesses. The artist reappropriates the fish chart into an all-fish restaurant menu by 'cooking' and 'dressing' the fish visually, inspired by Chinese fish cooking styles and plating aesthetics. The painting is a gesture that reclaims the empirical categorisation of fish based on physical characteristics and measurements into a visual glossary of Chinese fish dishes. Our understanding of the natural world is not always a scientific one, but is often informed by our cultural practice, or in this case, our gastronomic experiences.
My Earthliness, Your Tenderness (2018) is part of Hoo's long-term research that examines the historical migration of the Tilapia fish in Asia. In 1946, the Tilapia fish was smuggled by two Taiwanese soldiers from Singapore to become the enhanced, cross-bred, sashimi-graded Taiwanese Sea Bream in Taiwan today. The project reflects on the journey of the fish having undergone various processes of mutation and domestication, to gradually being assimilated and nationalised into the local cultural context. At the same time, the project observes a conception of a pre-nationalist Southeast Asia, and the connection with the Malay Archipelago to Taiwan during the Second World War.
This emblematic woodblock print commemorates the circuitous journey of Tilapia. Crowned with Areca and Coconut trees on each top corner, this image depicts the typical Tilapia farming scene on the left and dark figures scooping fish in a sewage drain on the right; then embellished with the "Tilapia Gua Sha" (a colloquialized internet meme) and the Singaporean Merlion to denote its place of origin.
Kawita Vatanajyankur
Carrier (Fish)
2017
HD Video, Single Channel, 5m 23sec
Edition 3 of 4 + 3 APs
Image courtesy of the artist and Nova Contemporary
The Sickle (2020) forms part of Vatanajyankur's larger research project 'Field Work', which explores modern agriculture. This series unveils the labour behind mass production within a food production system reliant on machines and industralised farming practices. The sickle in particular is known for its historical use in harvesting crops and can be traced back to times that pre-date the Neolithic Era. Adopting the visual language of contemporary consumption and desire, the artist's physical body is transformed into agricultural tools within a white, laboratory-like environment. The work raises questions surrounding the replacement of small-scale human farming by large-scale, machine-driven agricultural technology.
Kawita Vatanajyankur
In her performative videos, Kawita Vatanajyankur (b. 1987, Thailand) transforms her body into a site upon which issues of labour, feminism, oppression and consumerism are thoroughly interrogated and challenged. Drawing from a globalised and digitally networked visual language of consumption and instant gratification, her videos implicate a bodywork that is as strikingly compelling as it is uncomfortable to witness. Vatanajyunkur has received multiple solo exhibitions internationally, including "Body, Labour, Consumption" at Museo Novecento, Florence, Italy and "Mental Machine: Labor in the Self Economy", The Art Gallery of Western Australia, Perth in 2022. Her artworks have been included in numerous exhibitions and biennales globally, including at: Museum of Contemporary Art Busan, Korea; Bangkok Art Biennale; Kunstmuseum Basel, Switzerland; Hamburger Bahnhof, Germany; Sydney Opera House, Australia, M+ West Kowloon Cultural District, Hong Kong, among many others.
Căng Tin
Căng Tin (Cynthia Mai Ammann, Quang Vinh Nguyen, Zoé Nguyen, Valentin Kaiser and Matheus Vo Ngoc) is a multidisciplinary collective of five Swiss-based creatives with Vietnamese roots. They came together in 2018 as Căng Tin to research and explore the contemporary and historic context of Vietnam through arts, design and gastronomy. Căng Tin has evolved into a platform for arts, design, and culinary investigations, and is growing a community showcasing Vietnamese contemporary and traditional know-hows. Their work has been featured in FOODCULTURE days Biennale (2020-21), and they participated in the Mise en Place residency program, Lausanne, Switzerland (2021) and Textile and Design Alliance Artist (TaDa) residency, St Gallen, Switzerland (2020).
Lâm Đồng (2019) is a curated selection of images from a larger research project investigating the province of Lâm Đồng and its close historical links to French agricultural colonisation. This region was favoured by the French for its temperate weather, which allowed the cultivation of crops that are otherwise impossible in the rest of Vietnam. Đà Lạt, the capital of Lâm Đồng, was the headquarters of the French colony as its climatic conditions were similar to Europe. The French colonists took advantage of its temperate climate to import and grow food coming from Europe in the 19th century. These new ingredients then became part of numerous typical Vietnamese dishes from Lâm Đồng.
Căng Tin developed this project during winter 2019—2020, collaborating with three photographers, Dương Gia Hiếu, Théa Giglio and Cynthia Mai Ammann. Shown in the exhibition are a selection of images from Lâm Đồng, studying their historical, sociological or anthropological links with the Vietnamese highlands. Other elements of the project include texts, recipes, objects, events, and a future publication.
Elia Nurvista
In her artworks which span installation, video, performance, and workshops, Elia Nurvista (b. 1983, Indonesia) utilises food to critically address issues of power, social and economic inequality, and ecology. In 2015 she founded interdisciplinary study group Bakudapan focusing on food, and she is part of Struggles for Sovereignty, a solidarity platform working in the fields of art, food, farming, land rights, indigenous and ecological activism. Her work has been included in numerous international exhibitions, including the Dhaka Art Summit, Bangladesh (2020), Karachi Biennale, Pakistan (2019) and The 9th Asia Pacific Triennial of Contemporary Art (APT9), at QAGOMA, Brisbane, Australia (2018), among many others.
Part of a larger research project titled "The Possibility of Inauthentic Recipes", this work explores Nurvista's interest on the cultural value of recipes and food, and the claim of singular ownership of origins. Such monopolistic attributions and claims often overlook the origin of ingredients and cooking methods which shift and change through the migration of people by conquest, enslavement, and colonisation. The project thus questions the ambivalent and complex nature of cultural inheritance, and in which food and cultural products from foreign countries are often accepted but humans, migrants or asylum seekers are rejected.
The video Safeguarding the Curry Burger (2018) explores these tensions through a speculative debate on the recipe of an imaginary traditional food, the Curry Burger. Since the individual products, the burger and curry, are in themselves contentious food items, this work aims to further complicate these questions around cultural authenticity.
Curated by:
Clara Che Wei Peh
Seet Yun Teng
With thanks to:
Nova Contemporary
Damon Lim
Jocelyn Lui