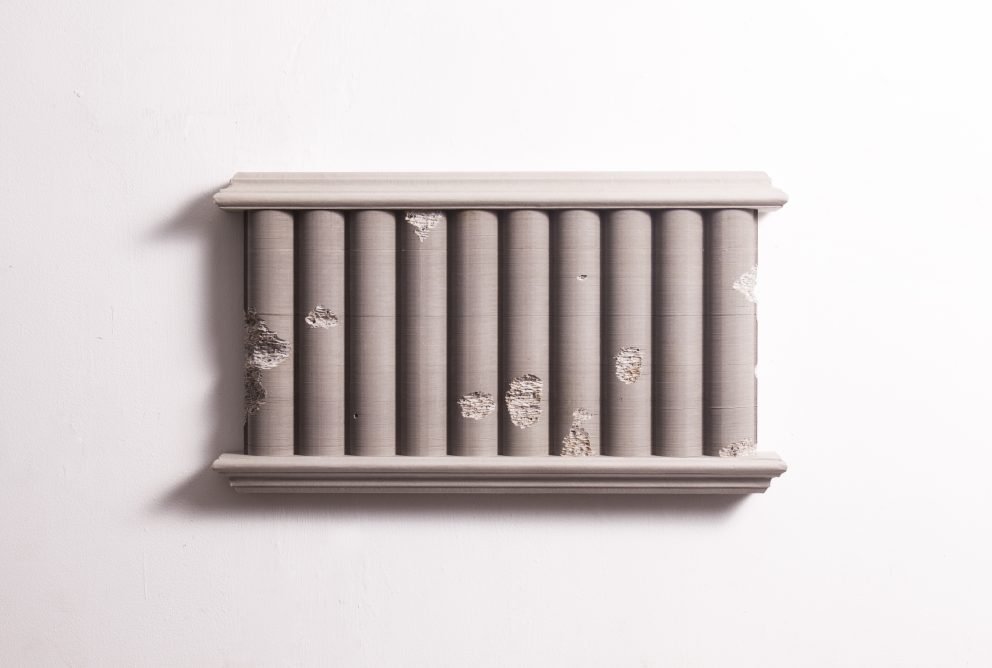 Appetite is pleased to present Constructing Matter. This exhibition brings together a selection of works by Kanchana Gupta and Irfan Hendrian, two artists whose practices investigate material as a mode of expression in and of itself.
Materiality is the quality that is shared by all physical objects by definition of their existence in the material world. This concept has (re)surfaced as a pertinent area of study in recent discourse, as artists increasingly challenge the ways we understand matter and material in contemporary art. In paying close attention to traditional materials and subverting their use, or experimenting with uncommon materials, artists take material as a tool for challenging and moving beyond the preconceived limits of artistic expression.
Gupta and Hendrian, in particular, expand the global conversations around materiality as they draw from cultural environments and constructions specific to South Asia and Southeast Asia. Both artists recontextualise urban materials – such as paper and jute – into highly complex and layered sculptural artefacts, transforming the life-cycle of utilitarian objects. They invoke deeper considerations behind the form and function of their materials, extending beyond the formal and the artistic and onto the social and cultural dimensions of their unexpected objects.
Constructing Matter is open to the public from 31 August, 2021 – 4 December, 2021. 
Kanchana Gupta
Kanchana Gupta (b.1974, India) is a Singapore-based visual artist who maintains a deep fascination with, in her own words, manipulating the "materiality of material". Through a precise combination of studio and industrial processes, Gupta uses a distinctive method of creating paint 'skins' through layering paint upon quotidian materials such as jute or tarpaulin substrates. Her sculptural practice serves as a vehicle for Gupta to explore and record the urban, translocal context. Gupta's works have been exhibited at: EMERGING – Selections from the DUO Collection, The Private Museum, Singapore (2020); Reformations – Painting in Post 2000 Singapore Art, ADM Gallery, Singapore (2019); Tropical Lab 9: Island, Institute of Contemporary Art, Singapore (2015), and many others.
In her Edges and Residues series, Gupta reveals the evocative qualities of an all-pervasive urban material, jute, through her incisive use of process as an instrument of expression. Edges and Residues invites careful consideration of jute's inconspicuous ubiquity – a material present throughout construction sites and used by migrant workers for temporary homes after they are discarded. Gupta reenacts this cycle by collecting cast-off jute from construction sites, utilising it transitorily, then discarding it similarly. A highly absorbent material, jute is commonly used to wrap wet cement columns in order to accelerate their drying process. When removed from the columns, its retentive inclination results in bits and pieces of cement clinging onto its surface, forming a record of its displacement. Gupta's method echoes this construction process, with the fragile paint skins leaving traces of their presence on each piece of jute after they are burned or stripped away. 
Gupta's works demand a painstaking, devotional attention to material: each series is preceded by many pages of colour studies, and every layer of paint skin is the result of painting on, layering, and finally, burning and stripping off oils from its jute scaffold. A carefully crafted colour palette throws into relief the inverted textures of jute that remain on the surface of each layer, illuminating the fissures of vibrant colour on the surface of each piece. Despite jute's formal absence in the final artwork, Gupta's process reveals the tenacious nature of jute, as its presence remains imprinted on the paint. 
Irfan Hendrian
Indonesian artist Irfan Hendrian (b. 1987, United States of America) works intimately with paper as a medium to question the boundaries between personal and collective identity. Drawing upon the Bauhaus approach of reducing, subtracting, and simplifying an object to its most sublime, essential, and substantial state, Hendrian adopts a purist approach in working with paper. In doing so, Hendrian draws out paper's sculptural possibilities, beyond its conventional use as the background of the two-dimensional picture plane, through methods of binding and collaging. Rather than creating images, he believes that through composing visual arrangement of objects, a particular aesthetic value emerges. Hendrian's works have been the subject of multiple solo exhibitions, including: Constructed_scape, Sullivan+Strumpf, Singapore (2020); Some Other Matter, Aloft at Hermes, Singapore (2019); Terrene, Jeonbuk Museum of Art, Jeonju, South Korea (2016), among others.
Hendrian's practice draws from his expertise as an industrial printmaker. He often chooses discarded materials from the bookbinding studio where he works, layering and compacting offcuts and paper waste into abstract compositions, allowing paper to become both pigment and canvas in his hands. The Mold series, in particular, sees paper as a 3-dimensional structure. Cutting into the same 'block' of paper, Hendrian creates two pieces that are negatives of each other, such as in Mold É (2020) and Mold È (2020), revealing the densely layered anatomy of his paper sculptures.
In Plateau #2 (2020) and Plateau #3 (2020), Hendrian builds upon his signature technique of layering to recollect, record and reconstruct scenes of his hometown and recover long-lost memories. This process can be compared to the formation of sedimentation, as gravity gradually receives suspended particles and stores them in layers, and over time, compresses and moulds them into new, solid forms.
In Materiality: Wall #2 (2019) demonstrates Hendrian's further experimentations, integrating materials beyond the singular medium of paper, while staying close to its materiality. The work uses washi-paper, the traditional Japanese handmade paper which relies heavily on manual methods in its production. Washi-paper is used in many traditional cultural forms, such as origami, shodo and ukiyo-e, as well as in ritualistic objects for Shinto priests and statues of Buddha. In parallel, Composition of blackwood, brick, chalkwood, concrete, and coral chedar (2020) is an homage to the publishing houses of Bandung, Indonesia, where Hendrian is based, where there has been a long tradition of industrial printing until recent years. Invoking both personal experiences and passed-down memories of craft and making, both works emphasise paper's formal qualities and its invaluable role in building shared cultural identities, while utilising the material as a vehicle for remembering.

Curatorial Team:
Kaushik Swaminathan
Clara Che Wei Peh
Sabrina Cunningham
Kanon Ida
Maddie Rubin-Charlesworth
With special thanks to:
Sullivan+Strumpf Gallery